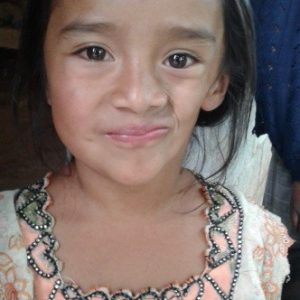 My name is Silvia Amalia Salazar Miranda.   I am 7 years old and I live with my family in the village of Chipila,  Aldea Estancia de la Virgen.
I want to tell you the story of why my face looks this way.
Three years ago I suffered a fall from which I do not have many memories.   My mother says when I was just four years old, I was chasing one of my aunts and I fell hard against a rock. My family thought it had only been a bump and they never imagined how bad it might be.
At first nothing happened, but as the days went by, the left side of my face began to become deformed.  My worried parents took me to the Roosevelt Hospital in Guatemala City where the doctors said they had to do more tests and x-rays.  During that time, we returned for more tests and my face was becoming more and more deformed.  The test results were given to the doctors, but due to the lack of money, my parents could not take me to my next appointment.   They did not know what was really happening.
Two years after the fall, my parents were still worried that my face was becoming more deformed.  They decided to take me to the Obras Sociales Clinic of San Martin, where I was examined by Dr. Ligia Garcia.   My mother made a request so they could help us because there was not enough money to continue the medical process so I could get better.  The Dr. Garcia   said she would look for the best place to refer me to a specialist for an evaluation for a diagnosis, and to be able to follow up on my case.
Since going to Obras Sociales San Martin, our hope has increased because we are sure they are supporting us.   Blanqua, the Obras Sociales social worker, visited our house and is aware of our home and needs, and knows we truly need the support.
I am sure now, with the support of People for Guatemala and the support of all of the good people from another country, my life will change for the better.