José Mercedes Ambrosio Saban, now 3 years old, will walk one day
thanks to the support and financial assistance from People for Guatemala, Inc.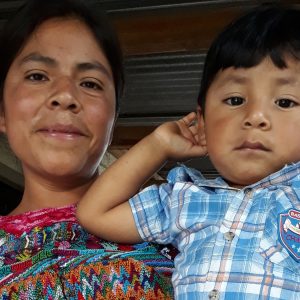 When Jose was born, Rolando Ambrosio and his wife Yohana, realized something wasn't right with their son's foot. They became alarmed and immediately sought help at the local government health post.  They were told their baby needed to be seen by a specialist at the national hospital in Chimaltenango.  During that appointment the doctor recommended x-rays. Rolando only works in agriculture making Q30 to Q50 a day (between $4 and $6.50 a day).  With the help of their family, they were able to scrape together enough for the bus fare to take Jose back to the hospital and pay for the x-rays. 
The doctor recommended special shoes to help Jose's foot but when Rolando and Yohana saw the price of the shoes their hearts filled with despair.  They knew they could not buy the shoes their son needed.  They tried to save money but, due to lack of work and the money they needed for their living expenses, it was impossible to purchase the shoes.
Without the correction, Jose could not learn to walk.  After 2 years, having a great desire to see their son recover, they came to our clinic to request help.
The x-rays taken in 2015 were lost so Dr. Garcia decided to refer Jose to Obras Sociales in Antigua for an orthopedic evaluation.  We assisted the family with transportation and the cost of x-rays which showed Jose needed surgery.  Rolando was told the hospital would call to schedule surgery. Months passed without a call.  Frustrated, Rolando called our clinic to request help.
Because of the number of patients and the length of time it was taking to get an appointment at Obras Sociales, Dr. Garcia decided to investigate other options for Jose. She spoke with Dr. Sergio Castillo, an orthopedic surgeon at the Roosevelt Hospital in Guatemala City.  The family had an appointment to see Dr. Castillo the following week. On April 26 the family learned from Dr. Castillo that Jose could benefit from surgery.  The receptionist would call him for an appointment.
On Friday, May 18, Rolando received that call. Jose was scheduled for surgery on Wednesday, May 23.  He needed to be at the hospital the afternoon of May 22.  We transported Jose, Rolando and Yohana to the hospital. Dr. Castillo did not charge for the surgery.  The second surgery was on June 21.  Again, Dr. Castillo did not charge for his services.  "I want to see Jose walk" said Dr. Castillo.  "The outcome will be excellent."
Our critical care fund helped this family with the cost of x-rays, transportation and food during their stay at the hospital.
For the next month, Jose is sporting a full leg cast and is patiently recovering.  Because of his parent's persistence, one day Jose will walk.
This is only one testimony of what can be achieved with the support from people who want to make a difference in a child's life.  Your contribution provides financial assistance for someone you don't know and probably will never meet.
From the moment you decide to make a donation, know you are supporting someone who hopes, with all their heart, that their life will change.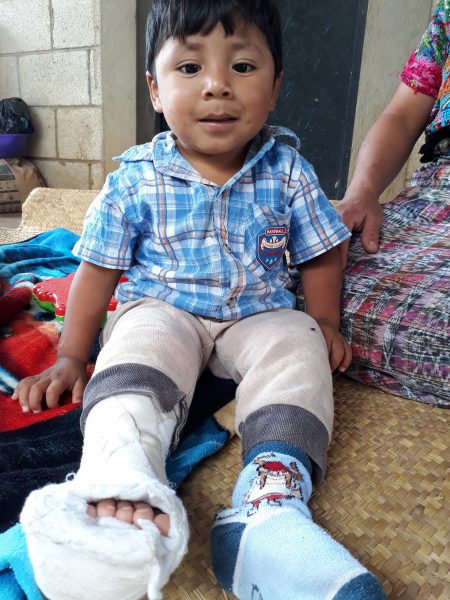 Such is the case of JOSE MERCEDES AMBROSIO SABAN and his parents' great desire to see their son walk.  I dream and wish that for him too, in the not-too-distant future.   Submitted by Blanqui Batzibal, July 12, 2018